Duncan Hospital Experience
A Hospital and its Mission of Reaching the Unreached.
I walked through the entrance of a dark sandstone fortress, the entrance to Duncan Hospital in the state of Bihar, India. Built by Christian Scottish Missionaries in the 1920s, the contrast between its walls were startling. The missionaries had chosen a dilapidated place like Bihar for their mission. Stepping inside resembled the comforting warm air of walking into a home from the freezing January air. Outside it was disorganized, dirty and chaotic yet inside the hospital campus was organized, clean and orderly. I was greeted by friends and informed I had just missed the Joni and Friends mission team by two days.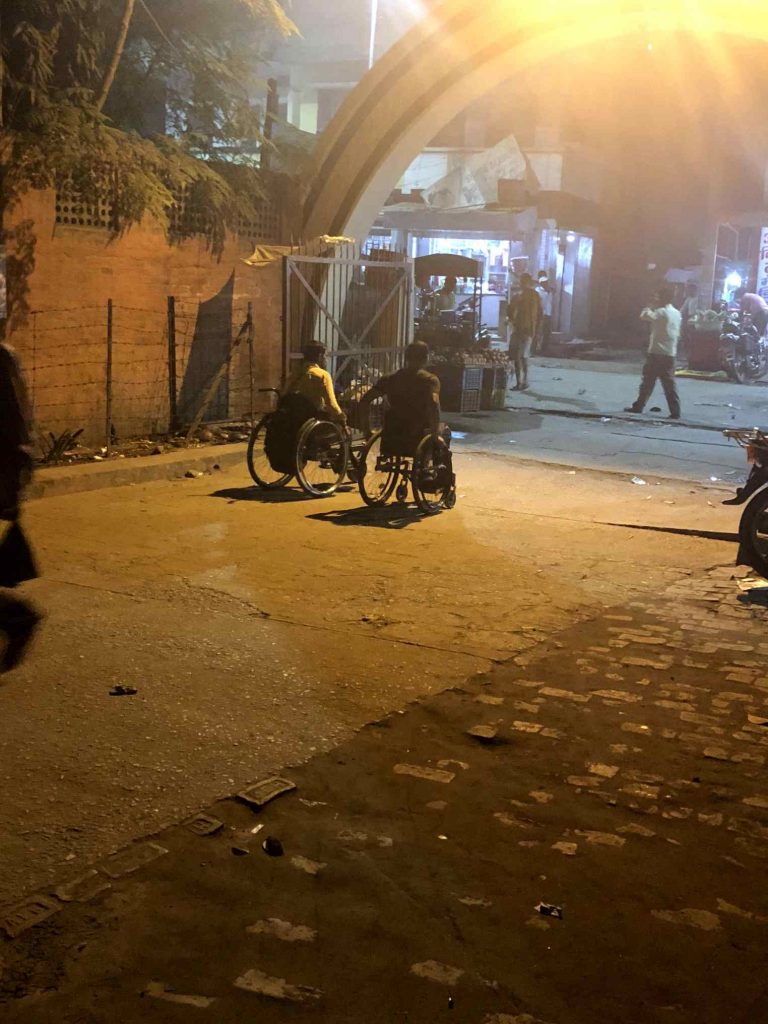 My friends took me on a campus tour where I saw buildings with a contemporary façade. One magnificent building was donated by a famous British Orthopedic Surgeon touched through his experiences at Duncan decades earlier. The campus pathways were surrounded by gardens with flowers and exotic trees. These were donated by an American ER Physician who spent several years volunteering in Bihar. The gardeners tended these flowers and gardens, a continuation of his legacy of love to the community. I was surprised to learn this remote rural hospital saw inflows of volunteers from around the world including Europe, UK and the United States. The volunteers encompassed healthcare professionals not limited to: multi-specialty physicians, critical care nurses, physical therapists, residents and students of all healthcare disciplines.
Walking through organized flower and tree garden pathways, I was taken to the private residences comprising three-story buildings stacked in blocks facing each other. Stairways provided access to each floor and I could see the children playing in between the staircases. I retired for the night. The five-hour journey from the capital exhausted me yet I was excited in anticipation for the next few days at Duncan.
Next morning I woke up to the rooster crow, an unconventional alarm, prompting me to rise up for the day. I had a delicious morning tea made from whole buffalo milk packed with nutrition. This was a daily routine for the Bihari population whose meals were otherwise nutrient poor. After a hot breakfast I went with my host for the morning prayer and sign-out from the overnight medical team. Sign-out was a tradition I was familiar with from my residency days. The night-shift doctors discussed cases requiring critical attention with the day team to prioritize the needs for the day.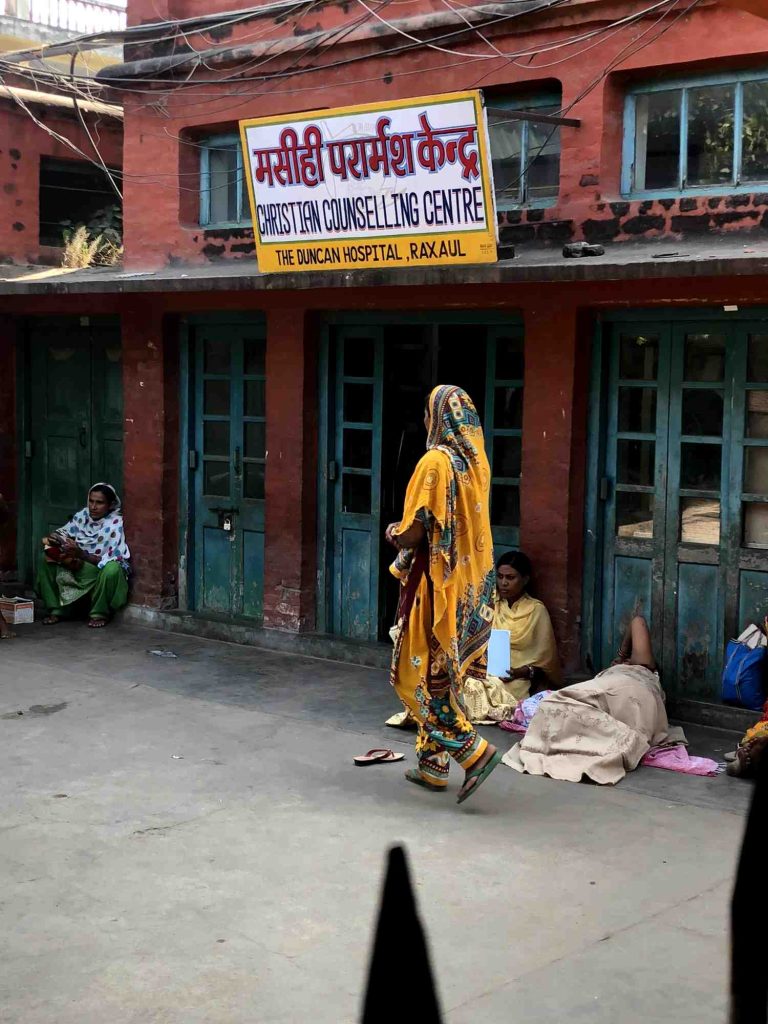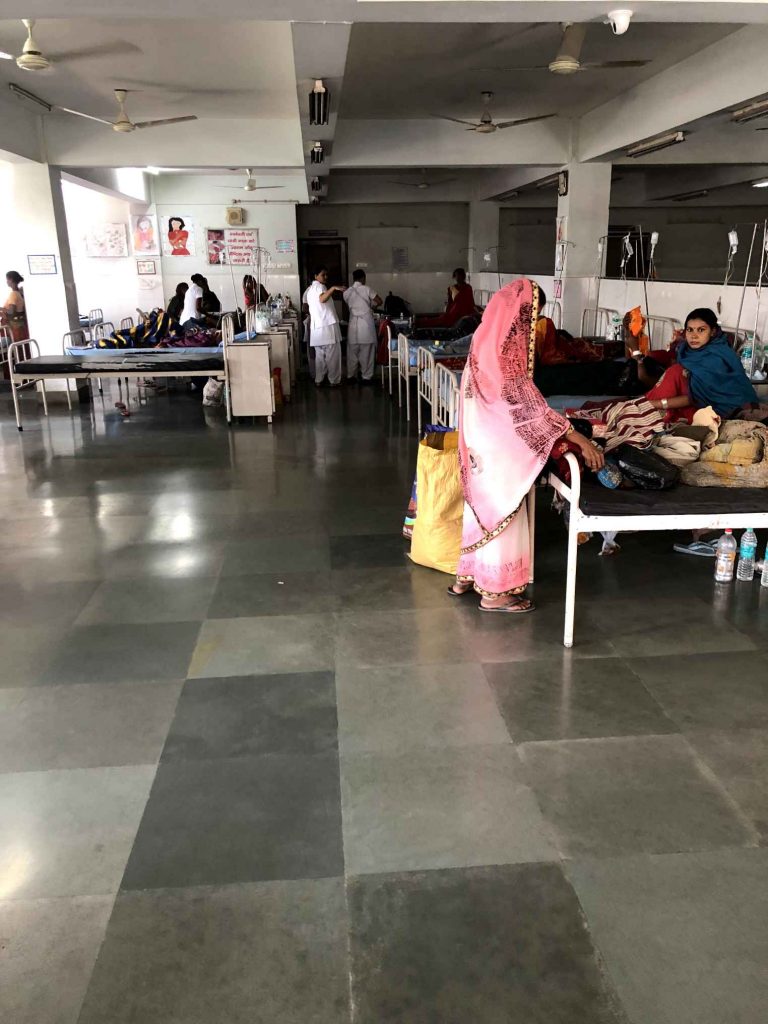 After sign-out, I was assigned to work with the Ob/Gyn service. One of the physician's I would meet was recruited to meet the shortage in the busiest unit in the hospital i.e. Obstetrics. The Bihari population was exploding and the state did not have enough physicians to meet woman's health needs. Families had multiple children driven by illiteracy and misperceptions.
The Obstetric unit was a long and wide hallway partitioned by curtains, each having a bed with a mother in a different stage of labor. There were about 40 mothers about to deliver their baby. While one mother was being induced, another was in active labor and yet in another bed a baby was being born with the assistance of a midwife. This pattern continued from one bed to the next.
At the end of the hallway I met the lead Obstetrician. She was surrounded by several trainees impulsively waiting to inform her about the looming C-sections and emergencies. While I politely introduced myself a resident physician interrupted me informing her that a "STAT" or emergency C-section was en route to the OR. A baby was having concerning decreases in the heart rate called decelerations and its laboring mother was getting fatigued. This can be a critical period for the wellbeing of both the baby and mother.
The lead physician directed her attention to me and asked, "Doc would you assist me?" I had delivered babies during my medical school rotation. The old adage sprung to my mind "Often Wrong, Never in Doubt". But was there an alternative? There was a dire need for medical help in managing the overwhelming volume of patients. Who else would assist if not me at that moment? I exclaimed "Yes, of course, let's go, I'm ready".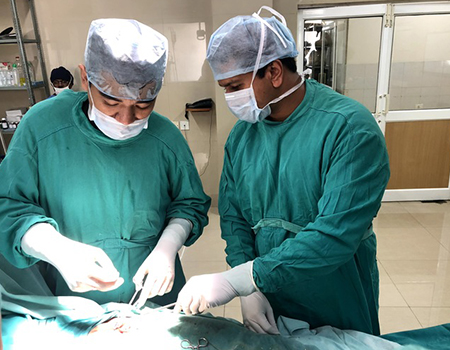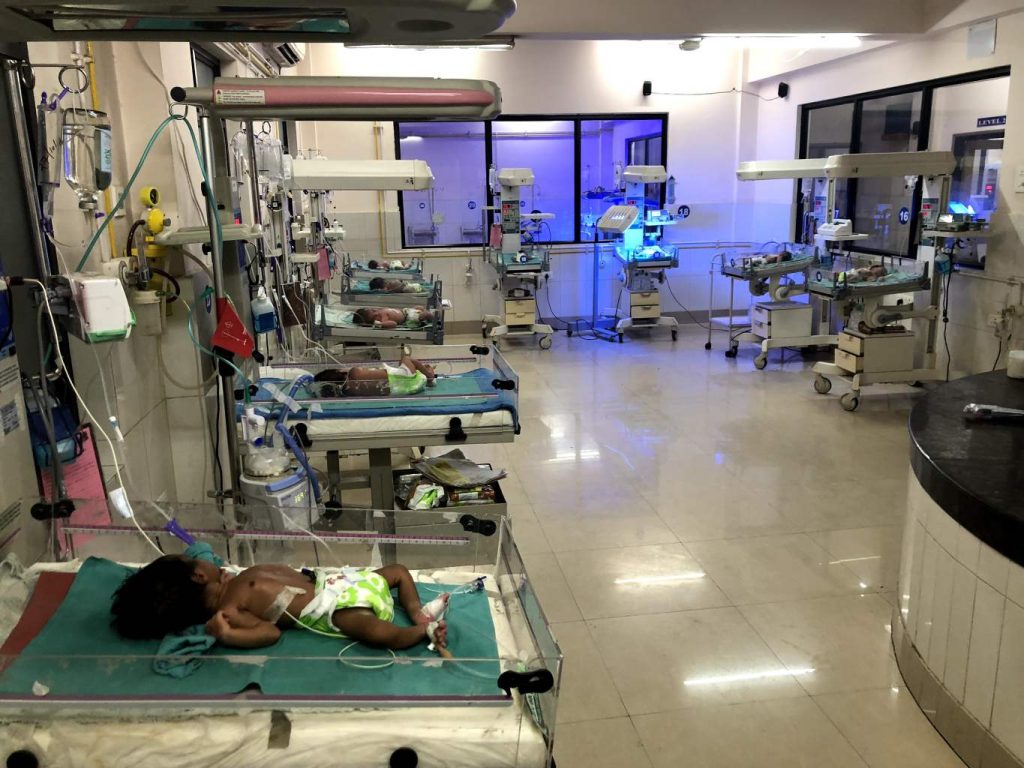 I was escorted to the scrub room, where sterile cloth scrubs were kept. I gowned up and went to the OR. I assisted by holding the suction cannula in one hand and a surgical scissor in the other. I got involved to the degree I felt comfortable. One of the resident physicians was a recent graduate. He was not fellowship trained, yet he grew through the circumstances enabling him to take on a fellow's role delivering 100s of babies over a short time span. I paused to ponder the dire lack of physician resources and how necessity makes an individual grow into a role. I recalled those moments delivering babies during my Ob/Gyn medical school rotation and was excited to relive them again. More importantly the camaraderie of the attendings and the residents made me feel welcome as a part of the family. The baby was successfully delivered and mother and baby did well.
After a busy day, I took a stroll through the campus. Nudged in a corner was the Shanthi Niwas (peaceful home), a makeshift hostel for international guests volunteering at the hospital. Well-equipped rooms with Wi-fi and even a common furnished dining area was prearranged to keep the guests comfortable during their stay. Guests came to the dining area for a good meal, fun conversations and to discuss their clinical experiences that day. The Joni and Friends team had just left the campus leaving the Shanti Niwas near empty. There was a lone visiting nurse from Denmark volunteering at the hospital. She was reminiscing the fun times with the Joni and Friends team and their energy. Like many other visiting guests, she chose to volunteer in an impoverished area. She inquired with her hospital in Denmark for an international volunteer opportunity and they recommended Duncan hospital. The hospital receiving excellent feedback from the Danish visiting faculty established itself as a strong exchange site for their students.
The following day was community service day, where physicians volunteered to meet the needs of the surrounding communities. I met a physician in his mid-forties who was away from his family volunteering for about 6 months. Periodically hospitals could request short term commitment from doctors to meet temporary physician shortages. Duncan requested volunteer physician services through a healthcare recruitment firm. He decided to volunteer and his family supported his short-term commitment. He missed his family, however expressed joy in working with the people of Bihar and participating with the missionary community at Duncan.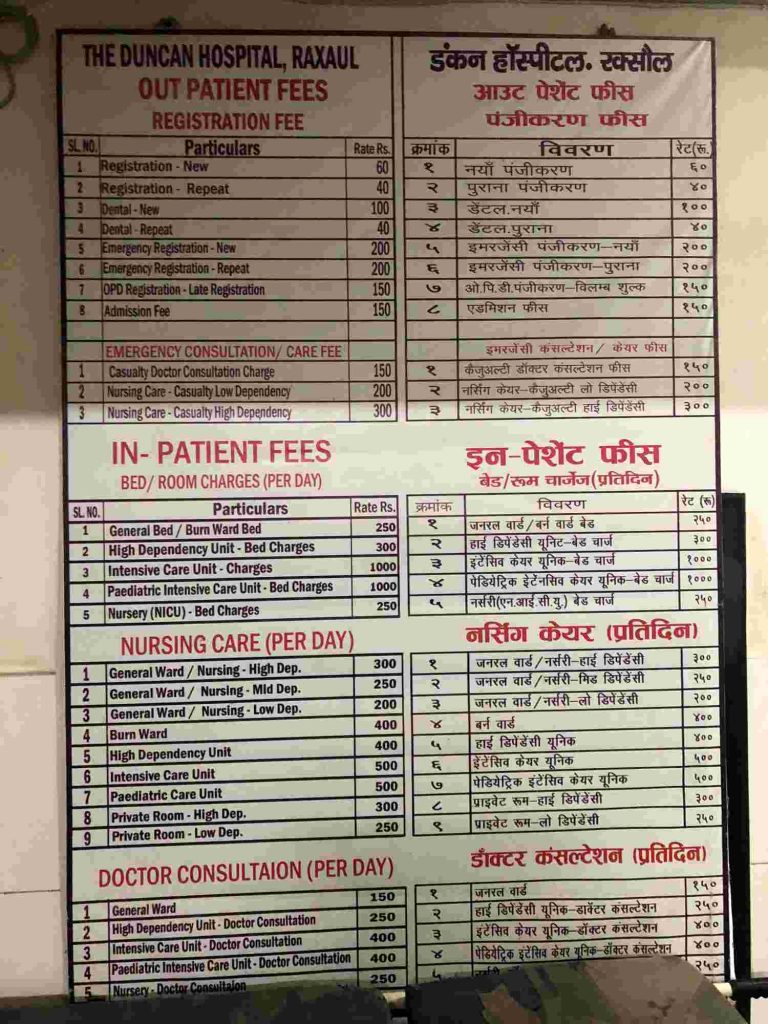 One day I was told I had a surprise. I was taken to the kitchen where steamed dumplings called Momo were prepared for the OR team and guests. It was a celebration after an intense work day where staff and senior physicians got together to enjoy this delicacy. We prayed and dug in eating several of these rounded ball delicacies.
My few days quickly went by: morning rounds, ICU service, delivering a baby, community services, eating momo and forging new friendships. I would miss these moments. I got ready to board the sleeper class train to Aurangabad. I boarded the train and said goodbye to my hosts as the train left the station. I settled to relive the memories which had left a vivid impression in my head.
Bihar was the lowest in the Index of health advancement on multiple metrics and the poorest of states to settle as a family. Yet a century ago Scottish Missionaries chose the neediest place to give their best. They were zealous for the poor just like Paul on his missions to spread the gospel. I had left this hospital transformed in my soul more than my mind. It was a spiritual healing and a timely stop on my journey.
-Reflections of Dr. Tony George at The Duncan Hospital, Raxaul Bihar
Clinical Clerkship Strengths:
Obstetrics
Gynecology
Neonatology
Intensive Care
Community Medicine
Website: https://www.duncanhospital-eha.org/
Duncan Contact : Dr Prabhu Joseph
Email address : prabhujoseph@gmail.com